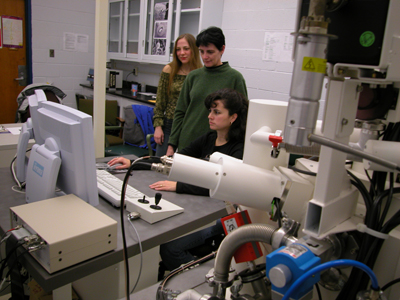 Acknowledgment: Supported by NSF grants DBI 0216233 & DBI 042079
Research and Facilities
The Department of Biology in Camden is housed in the Joint Health Science Center at city center and the Science Building on the Rutgers Camden Campus. Reseach in the department spans multiple levels of biology, including computational, molecular, cellular, tissue, organismal, and ecology. Faculty use a variety of organisms to conduct research, including bacteria, fungus, fruit fly, ants, leach, mice, and lizard. Students (undergraduate and graduate) have ample opportunities to conduct research in diverse areas, including microbiology, developmental biology, neuroscience, circadian rhythms, energy and disease, drought resistant, and ecology (for more information, please look at each faculty member laboratory page).
Laboratory equipment includes PCR, electrophoretic and DNA analyses, liquid chromatographic and TLC apparatuses, a gas chromatograph, phase-contrast and fluorescence microscopes, a scintillation counter, an ultracentrifuge and rotors, a transmission electron microscope, a Storm phosphorimager, ESA CoulArray HPLC, a LECO elemental analyzer, a scanning electron microscope equipped with energy dispersive X-ray for elemental analysis. Other equipment includes a core facility with two confocal microscopes and ESEM. The Biology Department has full access to a computer cluster to run computational analyses, including genome/RNA sequencing, imaging, and data bases.
Molecular, cellular and physiological research projects at Rutgers-Camden are supported by funds from federal (NSF, NIH), state and private sources. Field equipment includes vehicles and a variety of sampling instruments. Ecological research, with support from the New Jersey Department of Environmental Protection, NSF and private foundations, emphasizes the distinctive ecosystems of the South Jersey area, e.g., the Pinelands National Reserve (which is also an international Biosphere Reserve) for studies of pine barrens ecology.