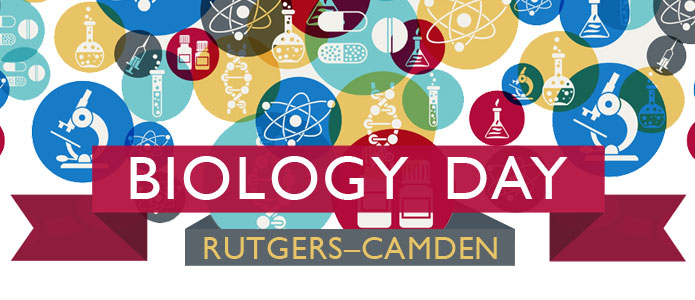 Welcome to Biology Day at Rutgers–Camden!
Biology Day Features
On Saturday May 6th, Rutgers–Camden will host Biology Day, which will showcase the research projects conducted by the undergraduate students in the Department of Biology.  This is a great opportunity for students who are interested in the sciences to learn more about the field of biology and Rutgers–Camden. Events will take place in the Rutgers–Camden Campus Center Multi-Purpose Room unless otherwise noted.
Registration is required to attend this event.
Click here to register
Schedule of Events 
10:30am- Check-in & Registration
11:00am- Welcoming Remarks

Kriste Lindenmeyer
Victoria Toomer
Kwangwon Lee: Overview of Undergraduate Biology Program

11:30am – 12:00 Rapid Fire Presentation
12:00pm – 12:30 pm student panel; representative students
12:30pm – 3:00pm Student Research Poster Presentations & Lunch
1:00pm – 1:30pm Short Faculty Classes in six small individual rooms
1:30pm – Laboratory Tours
3:30pm ends 
Features
Experiential Learning at Rutgers–Camden
Parking and Directions
When you get to campus on Saturday, be sure to follow the signs for Parking. Parking will be available in the Camden Technology Center Parking Garage located at 601 Cooper Street. Guests parking in the garage should take a ticket upon entering and bring it with you for the day. Before leaving, you will need to present the ticket to the customer service staff at the garage lobby desk. You can identify yourself as a guest of Rutgers using your agenda and the ticket will be stamped/validated. 

Driving directions for our campus can be found online.  

You can also find a printable version of our campus map here.