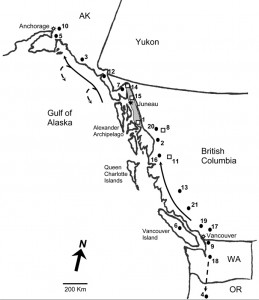 Historical biogeography of the North American glacier ice worm, Mesenchytraeus solifugus (Annelida: Oligochaeta: Enchytraeidae).
Dial CR, Dial RJ, Saunders R, Lang SA, Tetreau MD, Lee B, Wimberger P, Dinapoli MS, Egiazarov AS, Gipple SL, Maghirang MR, Swartley-McArdle DJ, Yudkovitz SR, Shain DH (2012) Mol. Phylogenet. Evol. 63, 577-584.
North American ice worms are the largest glacially-obligate animals, inhabiting coastal glaciers between southcentral Alaska and Oregon. We have collected ice worm specimens from 10 new populations, completing a broad survey throughout their geographic range. Phylogeographic interpretations suggest a St. Elias Range, Alaskan ancestry from an aquatic oligochaete during the early Pliocene. A gradual, northward expansion by active dispersal characterizes a northern (N) lineage that is confined to AK (with one exception on Vancouver Island), while a distinct southern (S) lineage representing worms from British Columbia, Washington and Oregon was likely founded by an avian dispersal event originating from a northern ancestor.