Top ten reasons to joint the first Biology Chair Cup (4v4) Soccer Tournament, 9am – 3pm, May 15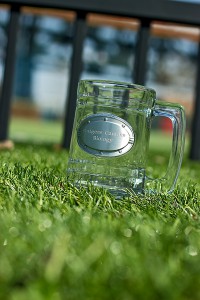 10. Free lunch at Friends Cafe.
9. You have two healthy legs.
8. You don't have anything better to do.
7. You may actually find out where the soccer field is on campus.
6. You may meet your future spouse.
5. No test after the game.
4. You may find out that the TA who gave you a hard time is not as bad as you thought.
3. You may become the winner of the first Biology Chair Cup, and become a part of Rutgers-Camden history.
2. You cannot buy this Cup anywhere. It is priceless. Everyone on the winning team gets THE CUP.
1. There is no better way to finish your semester than humiliating the nerdy faculty team.
Sign up at Wiki site in UnderBiologyRUC SAKAI site, or contact Dr. Kwangwon Lee, kwangwon.lee@rutgeds.edu
Simple rules:
Five players in one team (four players and one substitute, no goal keeper).
10 min per game.
Each team will play to other teams before the tournament (elimination games) begins.