Featured Student

Michael Bamimore, a senior biology major at Rutgers University–Camden and a Belleville resident, has been awarded the prestigious Undergraduate Research Fellowship from the American Society for Microbiology (ASM).

Alesha Figueroa-Falcon is a person that cannot be stopped. She faced a lot of hardships growing up, but that did not stop her from tackling AP English, AP Biology, Honors Trigonometry, and Honors Physics in high school. She has won awards for her efforts, such as the Overcoming Adversity Award, given to her by the …
Read more

Alesha Figueroa-Falcon

…

  "Natalia Ortiz-Bachier, a University of Puerto Rico (UPR) student seeking her bachelor's degree in cellular molecular biology, was one of the students accepted into REU after a rigorous application process.  Ortiz-Bachier learned about REU from her mother, who is the Dean for Sponsored Programs at UPR.  Inspired by her siblings, who are medical doctors, …
Read more

Natalia Ortiz-Bachier

…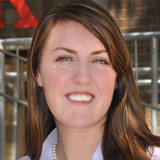 Summer Research Internship is a great way of getting the hands-on experience and build a strong resume. Here is a story from a biology major student Mary Cheetham. I spent eleven weeks this summer as a student trainee at the USDA Agricultural Research Station at the Eastern Regional Research Center in Wyndmoor, PA. I found …
Read more

Mary Cheetham

…

As a freshman, I quickly found Rutgers to be a fertile ground of high-caliber biology faculty who simultaneously make advances in their respective fields and take great pains to involve undergraduates in their labs.

Ryan Pachucki has always enjoyed science, and knew that research experience would be the key to his success.